Has she been on new site? Hope she is ok
I've been using PdaNet+ a lot this past week. It has been invaluable as I've unexpectedly not had wifi.
I think it was a post by Chelle that made me aware of it.
Many smart, savvy, and clever folks have disappeared from this Forum over the last year and a half, and now traffic is down to a trickle on a relative basis----wonder why?
(Note: this all began to happen way before the current Site format change.)
Many including myself came here from Ringplus, then we had the Cellnuvo game. Not so many options for free phone service anymore is why I suspect not so much activity.
Which private blog are you referring to?
It's really confusing when someone deletes their comment after it has been responded to.
Hope this clarifies the above: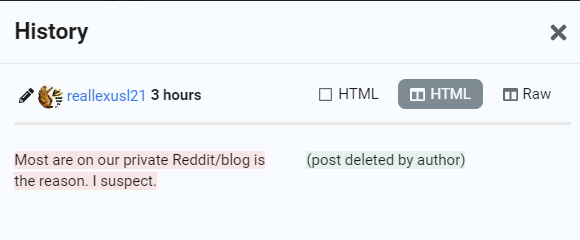 How did you access a deleted post?
Go to the "pencil" icon of the comment in question, and click on it.
(the icon is in the upper right hand corner of the post)
etc, Have you found a way of completely deleting a post as your post from April 25 suggests? I could not find the empty deleted post your quote was referring to.
"(Sorry about my empty deleted post below. It was repetitive of this post. I'm still trying to get the hang of things)"
Thanks for researching this JT. It's quite the mystery!
I can honestly say I am not JT, can you?
Back to the OP question. Chelle has only posted 3 times this year, 2 times in February and once in March. She was a valuable asset to this community and like a several others, she is missed. I still remember oldbooks1.
I don't think that 112059 has posted on this forum since last year.
I hope he begins actively posting again soon.
Thanks for the nudge!
It looks like things changed again. My login stopped working and I was too busy to go through the password recovery stuff.
I'll try to get back up to speed and start contributing again!
How you been glad to see you are ok.
Anything new?
Thanks, y'all!
Same old, same old. Just trying to stay ahead of inflation.
Been doing a lot of pressure canning of meat when I find the occasional super sale. I'm stocked up for at least a few years, now!
(Yes, I got carried away with my canning, but it's fun to do and you get a sense of accomplishment when you're done.)
I've also had my dehydrator going pretty much constantly to ensure that we've got plenty of fruits and veggies available.
This is where people ask, "Why dehydrate and pressure can instead of freezing?"
It's in addition to freezing. Our two freezers are already full.
Food prices aren't going to go down, so I've spent the past year locking in as many low prices as I can by preserving them.
If you like saving money on cellphone plans you'd love saving money on food!
I just showed someone today a jar of home canned green beans and asked them what they thought they were, they had no clue what they were, they had never seen green beans in a glass jar. I had to explain you plant, grow, pick and pressure can them in canning jars. You can then enjoy them years later.
I made blackberry vinaigrette (salad dressing) last week and will be making blackberry jam tomorrow. Yum
There are several great sites about home food preservation. Here is one that goes into great detail https://nchfp.uga.edu
If you are new to food preservation and you want to give it a try you need to learn how to do it safely.
Safety is definitely the key!
The USDA Canning Guide is my food preservation bible. I also have the Ball Canning Guide and the pdf files on pressure canning from the various extension agencies.
I'm a perfectionist when it comes to canning.
BTW-- Kroger had beef brisket on sale for $1.99/lbs, a few weeks ago, so I purchased 60 pounds and pressure canned it.
We opened a jar the next day and it was so delicious. I'm glad that we have the rest of it canned and ready to be used!
Money saved on groceries is just as good as money saved on cellphone service!
Seems like you ought to share a whole cow with someone Chelle