New plan name?!?
This is what shows when I check the "refill" screen for my phone on RedPocket site.
It's what it says at goredpocket.com/easyrefill. You don't need to sign up for an account to see this, just your phone number. Mine has said Cell Nuvo $5 PayGo for at least 2 months.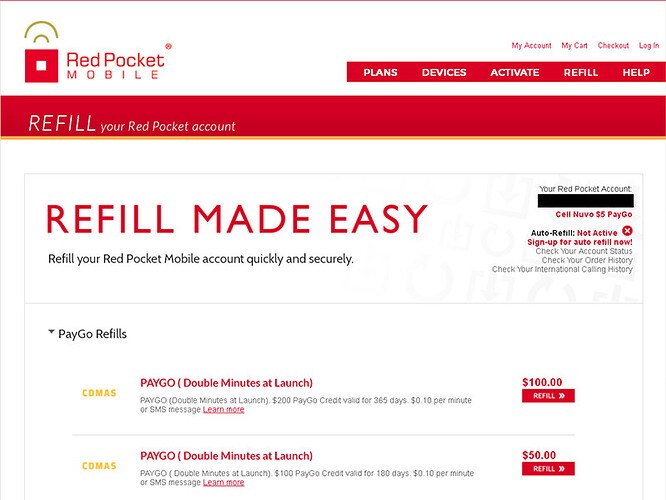 I see that the screen shot of those new plans definitively doesn't mention CellNuvo or Cell Nuvo.
No, this is Red Pocket's website and those are Red Pocket direct plans. We have service through CellNUVO which has a different selection of plans. We don't top up directly with Red Pocket we have to go through CellNUVO.
To me, that's a flaw in the display:, and because we have to use a backdoor to see anything. It seems likely to me that the only intended way to refill a CellNuvo plan is via CellNuvo. But since we're entering the 'standard' RP refill menu when going to "refill", we're seeing the standard RP options. RP can't have the CN Infinite plan (by any name) appear through the standard refill menu, since it's not available to non-CN users.
It would be nice if the menu system was smart enough to adjust to this by showing a refill page specifically constructed for CN subscribers. Of course, if we had a reliable refill method through the app store, and an available tutorial on refilling, it wouldn't matter what appeared through the standard RP refill page.
(Edit to add: sorry for repeating canon's similar, and succinct, thoughts.)
I'm sure CellNUVO wants to have the experience more seamless than it is currently. Someday it probably will be but I don't think it will be anytime soon. I'm okay with the way things are working for me, I just want what I have now but on Verizon and I'll be 80% satisfied with CellNUVO. 100% when we can buy phones with our gold

I want a dual sim phone for no more than 100 golds!
Mine expired yesterday. Seems still working. Will see how it works. I have around 200 balance.
Mine worked for 2 days after the expiration date of 10/31/17 with 170 minutes left and then everything stopped. I tried to to update with 5 gold over the app with no success and support has not yet resolved it. This is the 3rd time my phone service has stopped after the expiration date and it usually takes support about 10 days to resolve it.....frustrating.
So it is normal if it works a few days after expiration. And really it doesn't suppose to expire.
Mine still works after Oct 31 expiration
I wish they would offer the annual plans that redpocket sell on ebay. 52 gold for 100 talk/100text/500mb a month for a year. No messing about with top ups etc. We could be set for a year. Or 88 for 500/500/500 a month.
but..... 52 gold is a very high hurdle for a new member. (Which isn't a problem right now.

)
For some of us, 52 gold is higher than our annual anticipated needs for a particular line.
(And..... I don't have 52 Gold on one of my lines.......)
If they could offer it as an alternative, that would be cool! You're right that it would limit workload, and chances for repeated refill errors. And those are great annual plans for many.
Yes I think the infinite plan should stay. That is a good plan for anyone especially new joiners. The others too. Obviously you can't buy a 52 gold plan when you are just starting out but it would be a great option for those who have the gold. If they ever get ebay gift cards in the store that would be a way to buy the plans too.
I wish they would allow us to donate gold to each other one day.
Has anyone been able to get the bundled plan of 500 minutes , 500 text , 500 data
For 10 gold? I'm tired of getting this little plan of 250. Trouble both times I got it. Rather just have the bundled plan that renews every month the for 10 gold
Not working that I know of. I am on that plan with one line but no way to get it kickstarted. Out of service right now but I have never had it working - I switched to it when I switched to tmobile. Cellnuvo say there is some issue with redpocket and they need redpocket to sort it out. I doubt redpocket give these requests priority.
You and I are in same position with same answers