Probably stacks with referral for $25 total.
So, minimum of $5 plan which is now 1GB with 0 text 0 voice... do you have to top up with some credit to start?
Meaning is this 3 mo free or 3 month free after loading $5 top-up?
Are you certain Tello monthly plans without voice minutes do not include unlimited texting?
Unlimited texting brought the monthly plan to $9. (Edit: Oh, $9 would include unlimited talk and text)
I thought the data-only Tello monthly plans without voice minutes include free/unlimited texting.
Are you certain that is no longer the case?
From what I can see on Tello's monthly plan page, you need to at least sign up for the minimum number of minutes (the 100 minutes are temporarily doubled to 200 through May 29th) to get unlimited texts, and it only costs $6/mo: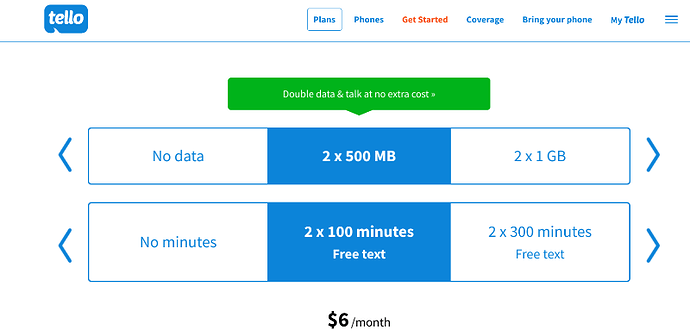 Reminder, the $15 credit is only for new customers.
Hope this helps!
data only plans get unlimited texting
This is the correct answer.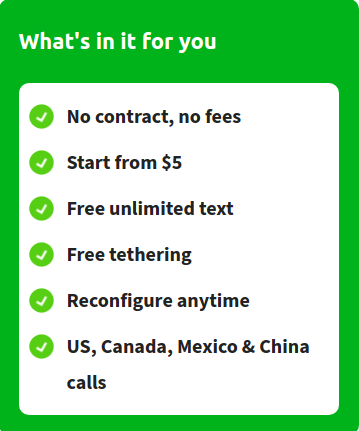 EDIT: Looks like I was mistaken that one must sign up for minutes to get unlimited texting. Thank you, @mmfacemm, @Chelle, and @Isamorph, for correcting my accidental misinformation!
A dollar difference is no big deal. The Tello website is not always clear.
The confusion about what bucket is necessary to have free texting is understandable.
In the early days of this forum, free unlimited text was included as a perk for any plan that included data. Minutes were a separate category.
Although I don't remember the date, the first time Tello dropped rates across the board on their price structure, they changed the way texting was bundled, at least visibly from their custom-plan rate structure-- from 'included with data' to 'included with minutes'.
In effect, though, free texting has since been included with either data or voice buckets. This is a nice feature, since it gives text access to both minimal use categories. (Those who only need data, and those who only need voice/text.)
It's one of the things I really love about Tello-- they typically apply their rules in a method that benefits customers with a wide range of needs, in most instances.
Yes confusion with this is understandable. They apparently want to keep it quiet that you get it free with just data. At one point they said you had to have a minute plan then they dropped that silently. Yes considering it is only $1 to add minutes it isn't such a big difference.
For low usage people I think Tello is very tough to beat.
Generous terms, very cheap prices (until you get to the bigger buckets), and first class customer support.
I tend to gravitate toward the all you can eat buffets, but I do keep one plan on Tello just to keep my finger on the pulse.
And they're my "little old lady" provider that I put my elderly friends on.
For me they are going to be a lot more relevant once the tmobile-sprint merger fully filters down to mvnos. I hope they can continue doing what they are doing.
Has anyone seen instance of Tello enforcement of purchase/$20 every 3 months for pay-go only account?
That change in terms & Sprint native only are the 2 things that have held me back from putting more low use/"little old ladies" on Tello. The coverage/Sprint native only thing will be evolving with the merger of course, with the right phone this may become much less of an issue.
I have seen no enforcement. I would not be surprised if they do begin to do so, and especially applying to plans starting after they officially issued the new policy. In other words, I would not start a new account that only made sense if the policy is not enforced.
re: coverage and 'little old lady' accounts: coverage is more of a concern for those who travel outside of known-coverage boundaries, and a significant number of 'little old lady' accounts will likely be used mostly within known boundaries.
I understand that not all 'little old ladies' stay within defined boundaries, and I personally expect native Sprint coverage to get worse before it gets better, especially on older phones that aren't T-Mobile compliant. I agree that coverage should be a concern when helping someone choose a plan!
The policy seems more like a scare tactic. I imagine they received various port out and refund requests, people moving to monthly plans etc and managed to remove enough of the almost dormant accounts to a level they are currently comfortable with. With the threat always present less people are going to just leave their accounts without paying for something.
I did refund one account, and ported another out. Both were 'extra' lines. We still have 3 Tello lines, one regularly on a monthly plan, one that gets a monthly plan every 3 months while relying on a PayGO balance (to stay with the spirit), and one that has so far stayed on PayGO only.. Honestly, I have no problem with the concept that there should be an income-producing revenue stream for this type of line, but I hate the fiddling of purchasing and cancelling monthly plans. (My out-of-pocket annualized cost for an intermittent monthly plan is fine by me.)
100k subscribers celebrated now, too.
"Tello Hits 100k Subscribers, Offers New Customers $15 Account Credit To Celebrate 4 Year Anniversary"