The private messaging system has been updated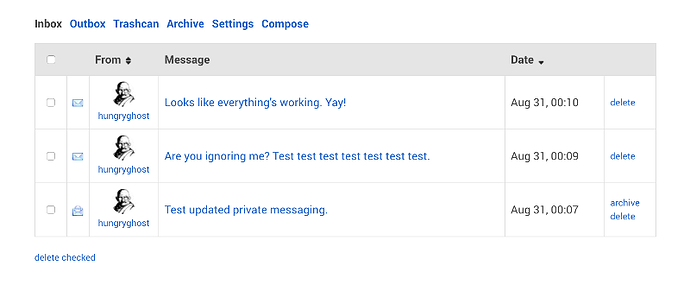 I've modified the PM system to be more tightly integrated with the forum. I've also made lots of other tweaks, fixes, and improvements. If you haven't tried sending PMs yet, check it out!
How to view/send private message
You can view your inbox by clicking on the icon at the top-right of this website, or by opening the forum login/logout dropdown and clicking "Private Messages". If you know which user you want to send a PM to, you can go to their profile (by clicking on their forum avatar/picture) and click "Send Private Message" from that profile page. This will begin a PM to that user immediately, instead of requiring you to type out their username.
Inbox/outbox now shows profile pics
PM inboxes now display user avatars from the forum, so you can easily view who a message is from/to. The profile pics are clickable and link back to that user's forum profile. This should make it easier to navigate back and forth between forum and PM content.
Updated time settings
The messaging system's time has been updated to align with the rest of the website/forum time. Prior to this change, the times zones were out of sync, which meant that PMs would show a different time zone than posts in the forum. Everything should now be consistent. Unfortunately, any PMs prior to this change will still show in your inboxes as +7 hours off. Historical timestamps have not been retroactively updated. Sorry about that.
Also, since I'm on the topic of time zones, the website and forum show times according to Pacific time zone (that's where I live). Currently, users cannot set localized time preferences. But this is on my list of things to eventually look into.
Archived and deleted messages
There is now a new Archive feature. You can archive PMs to remove them from your inbox. This should make it easier to keep inboxes tidy, without having to delete PMs you care about. Also, the time limit for deleted messages has been changed. Messages marked for deletion (in the "trashcan") are now automatically purged after 24-hours (previously, it was 72-hours).
I'm probably missing some items here, but I think that covers most of the PM changes I made. If anybody has questions or suggestions, please comment here.
Thanks.