Seems the 1GB is soft capped?
*I hope the "additional data purchases available" means they don't automatically bump you to another GB (I think Spectrum does that?).
"Optimum Mobile leverages T-Mobile 4G LTE and 5G networks to deliver nationwide network coverage. After reaching 1 GB or 3 GB data cap, or after reaching 20 GB of unlimited data use on a line in monthly bill cycle, data is reduced to 2G speeds for remainder of bill cycle. Additional data purchases available once 1 GB/3 GB data cap is reached. Subject to this QoS policy, tethering at 600 Kbps and video streaming at SD quality (about 480p). Domestic off-net (roaming) at 2G speeds. See our Broadband Disclosure for additional performance and network management details."
*ETA - no they won't bump you up automatically
"What happens if I run out of data?
No need to worry. If you run out of high-speed data, you will not be charged for overages or be cut off. You will stay connected at 2G speeds until your next billing cycle. During this time, you may experience longer load times for certain web pages and downloads as well as a slower streaming experience."
thanks. big catch is that you have to be in an Optimum service area. They are mostly New York/New Jersey. Fortunately, my parents live there. I'll need to set it up with their address.
This came just in time actually. I have my Beast Mobile line nearly set to port out to Visible, and about 3 weeks into that plan, that will coincide with a trip to New York. I'll re-port and that number can again hopefully be used on my daughters' smartwatch.
I think you are better off in Xfinity territory bingyee, you seem to be a master at leveraging their phone deals
Must say this the first time I've seen anything tempting from Altice.
Well, I entered IMEI for several unlocked phones, all fail except moto e6.
Moto G7 failed
Moto g pure failed**
Pixel 3a failed
What are the chances I can successfully activate in one of the "failed" phones?
What are the chances I can successfully use one of the "failed" phones after swapping in SIM activated in an e6?
** They sell the g pure ($160), so?????
I usually leverage Xfinity to churn disposable number on BYOD phones to get GCs or acquire new lower end iPhones for cheap. However, the number in question is a bit different because I've kept for much longer and it's been in actual use recently, It's a very easy number to remember and used to be my father-in-law's before he moved from Massachusetts to the midwest. When he moved, I used it to get an Xfinity BYOD GC 18 months ago and did an iPhone SE upgrade for a $250 GC about a year ago. I then ported it to Visible just before I ported to Beast, but I don't think you can get another GC for bringing the number back to Xfinity on the same account. Also, I can't use Xfinity because my kid's smartwatch is GSM only and won't work on Verizon. Finally, even if the device can get Verizon, it would eat into the data allotment and may cause me to come perilously close to exceeding the 1gb threshold for keeping my plan at $12/month because 2 other lines are used regularly by my parents.
Altice/Optimum is quite a good deal for what I need it for. I can pay $20 and it will buy a year of smartwatch service with plenty of data cushion, and I'll be set for a year before I have to consider another option.
I guess what I'm asking is can we SIM swap w/o issues (as long as the phone is unlocked & has appropriate bands for t-mo)??
When they started Optimum mobile was Sprint based and Wi-Fi first if you were near any Optimum/Altice/Cablevision hotspots (or even shared "cable wi-fi") and reports were mixed to negative. No idea these days if they still rely on wi-fi to carry service, require an app to be installed/active and if so if that is restricting phone compatibility?
This IMEI checker page FAQ is obviously out of date as it mentions only iPhones & Samsung.
https://www.optimum.com/mobile/bringyourownphone
Anyone here activated one of these lines?
So I got a line activated on this Optimum free year 1GB plan.
Using it in a Moto e6 that passed their IMEI checker.
I have an issue, I have no experience with T-mo MVNO service and Optimum mobile tech support has been pathetic & useless so far (while on the phone with me the "tech support" rep was searching/watching YouTube videos to find an answer - I kid you not, also promised to call back with a solution, never did).
The problem is that I don't get VM notifications at all (even in a decent signal area or on good WiFi).
Even worse - Under certain scenarios I don't get missed call notifications!?
If the phone has been turned off, in airplane mode or in 0 signal area when I power back on, turn off airplane mode or get back into signal area I don't get missed call notifications. Never experienced this with this phone on AT&T or VZW MVNOs.
There is no visual VM but I knew that going in, Optimum FAQ says iPhone and Samsung only get VVM. I can live with that.
The "tech rep" said he thought I'd need to download an app but would call back, never did.
I went through the native android calling app notification settings just in case the provisioning changed something but everything looked OK. I checked/updated via playstore the phone app, carrier services etc.
If anyone has suggestions, solutions, relevant experiences with this issue let me know.
In case Optimum never fixes this I know in the past a few posters have mentioned VVM app that is compact and unintrusive so any suggestions re a small "clean" basic app appreciated. No idea if there is also a plain just VM app available that is legit and unintrusive.
ETA screenshot of phone app notifications, the check boxes are checked but greyed out and check can't be modified. Each category can be brought up in a new screen and all but "incoming calls" allow selection of behavior (make sound, show silently etc.)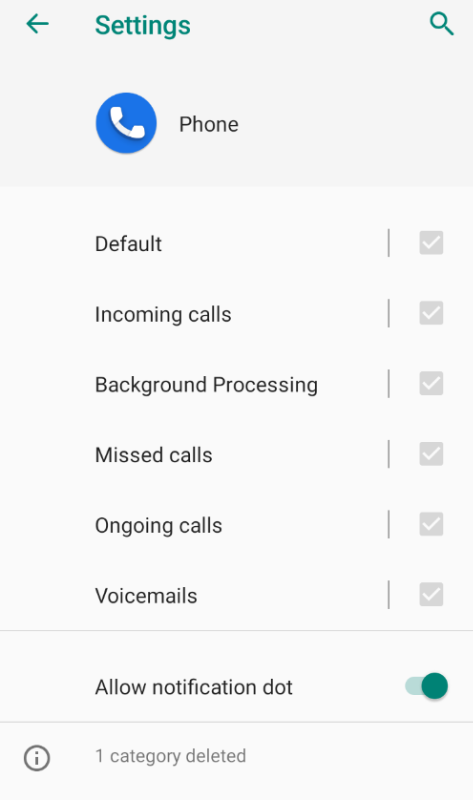 I don't have any idea about the real solution, but a possible workaround....
(Seems like I see this kind of problem usually associated with T-Mobile, and some reports seem to indicate disabling WiFi calling helps....)
I have an Android One phone. That build doesn't include any type of 'persistent' reminders, which I really need. I settled on an app called Missed Notifications Reminder by Eugene Popovich. It's kind of tedious to get set up and configured, but once set up it's been very stable and reliable. The caveat is that I'm using it to enable persistent notifications, and I don't know if it will trigger if there is no initial notification displayed on the phone-- it's configured by telling it which Android processes to monitor as a trigger.
I did try with WiFi calling as not preferred (prefer mobile) and with WiFi calling off.
No joy