How does one port in?
Anyone have problem porting out?
What's your experience like?
No, it's a bad place to park a number. Unless it's changed, TextNow has a warning in their FAQ that they don't guarantee that a ported number escapes their policy of expiring a number that isn't regularly used. (Unless it's on a paid plan.)
If the number's worth keeping, pay a couple of bucks a month for NumberBarn, or one of the $3/mo plans. (Red Pocket's FreedomPop/Sprint plan, or UltraMobile.) Or $20 to move it to Google Voice, which might be cheaper if you need to warehouse it for longer than 6 months.
Free porting at VOIP.MS right now & aside of the $20 deposit needed, it is way cheap to use & at ~.85/month to sit, parked, that'll last a very long time.
KentE is exactly right - TN is a real stinker about ditching numbers !!
I know this is a really old thread
but textnow does have a number locking feature that is only $5/YEAR
that does beat all the proposed prices earlier mentioned
That would indeed be very nice. Do you have a link to any documentation of that feature?
Like Isamorph, I don't seem to be able to find it. I can see how a minimal charge might work for TextNow if one ported in their own number. Not guaranteeing that you can keep a number issued to you by TextNow on the free plan probably makes economic sense, as they need to arrange for blocks of numbers assigned to them, and I imagine there's some cost in doing so.
I just see it in the app, under a section of the three lines at the top left called "My Store". Here is a picture
[Edit: It also does look like you can use Google Play Credit. Im not sure about Apple because I dont have any of those products]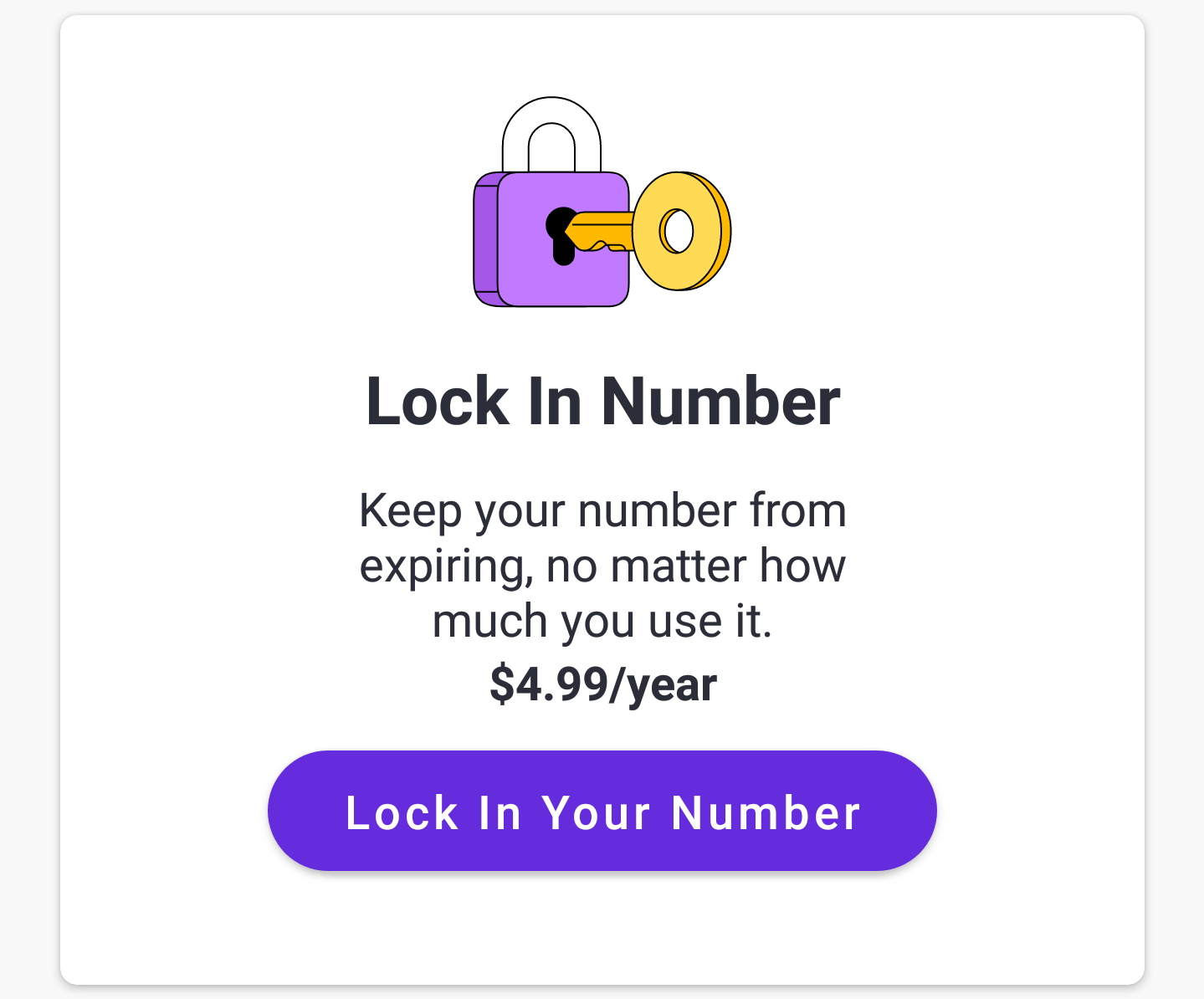 "And if you go with Ad Free +, your number will be locked to your account unless you decide to change it. "Or" if you'd like to spring for a cheaper option, you can lock in your number through the option in your "My Store" in the menu of the app for only $4.99/year!"
https://blog.textnow.com/blog/2020/12/08/how-textnow-can-help-small-businesses-go-big/
Found the above in the small business info on the TextNow site, which seems to be the only place the $5 option to lock one's number is mentioned, apart from the app on your device. So it does look like you can get the good $5 deal, although the TN site is not always clear. Hope it works out for you.
Thanks, Sovashadow! Nice find!
$5/year to be rid of that nuisance part is a good deal IMO.
Just for the halibut, I did it with ours & it went through too.
Great pointer Sovashadow !!
FWIW---I just downloaded the TextNow app and when given the choice of numbers, the option to pay $4.99 a year for keeping the number was there, which I opted for and paid for with Google Pay. I was able to sign in to my TextNow account from several years ago, an account that I hadn't used for many years. Funny--I immediately got text messages telling me that my number had unfortunately been changed due to lack of use. Anyway, I was able to verify my new, one year TextNow number with Google Voice, so the TextNow phone is now compatible with my GV #. I think the fact that GV works with the TextNow free service was mentioned by someone on the forum in the past.
Can you port OUT a TextNow phone number?
So far, this is what I've found.TextNow Wireless Porting InstructionsTo take your service from TextNow to another company, you will need to navigate to the 'My Wireless Account' page on the TextNow website. From that page, click on the area that says, "Number Porting." For the information you will need to port your number from TextNow, click "Port out your number." This will then allow you to access your account number and PIN your next carrier will require to complete the porting process. Another way to obtain your account information is by using the chat box TextNow has on their website. They will validate you are the holder of the account and then provide the account information.
That said: I looked at my online account and there is no number porting tab anywhere, so likely best to contact CS about porting.
These are my notes from TextNow that I kept, I believe this should still work:
"Thank you! So, the account number is the phone number with "1" in front, and the PIN is 7777 This is actually subject to change due to you porting a number in, so I would double check before submitting a port out request (in the future)Please note that your new carrier will need to process the port as a landline to wireless port, and/or submit the port manually through their porting team."
I can understand finding that yearly fee to be a good trade-off, but for me personally I just go send a text back and forth between Textnow and Talkatone whenever one of them reminds me I might lose my number soon.
...Which is probably kind of pointless since at present that and getting spammed are the only things I use either one for. I guess given the spam maybe I should let them run out and give me new numbers and see if that helps...
I keep meaning to set up a line on TextNow, and it sounds much more attractive to me with the $5 Keep Your Number option. But, I'm like you, and probably wouldn't use it except to check once in a while to see if it was working, and charged. Maybe I don't need it so bad.
I doubt a fresh number would help, since harvesting your usage and advertising seems to be the cost of the free service.
True, but I could luck out and get a relatively clean one. Probably not worth the trouble.
My current number with TN rarely gets spam, but I have been unlucky in the past.
However, on a related note, I have gotten spam messages that show up directly in my native messaging app (google messages) with my TN free plan sim (received one today actually). While I normally would never respond to a spam text, I tried and it sent.
I then tried sending a message to a phone number I know - message shows as sent, but I never received it.
I have tried texting the number that shows up in the system settings of my TN free plan sim, again , no luck.
Note - the TN phone is not chat/RCS enabled.
Most interesting, ajzwillli! It seems a little mysterious to get a text on the native app of a device apparently not provisioned for same. (Although, I think a cellular number has to be assigned on the Sprint network for data to work, so it's there somewhere..)