Wonder what phone he uses
Based on the menu screens and the fact that you have to manually engage the data in the data screen after enabling the sim, it's likely a Blu Advance 4.0 or 5.0.
More interesting is getting talk on one sim and data on the other
Yeah. Ever since ATT decommissioned 2g it's kinda messed things up-- especially when you're in an area without LTE.
That leaves two SIMS fighting for one 3g radio.
When would such a setup be of benefit?
A Truphone or Piranha Mobile SIM in one slot, for world wide talk, and a Freedompop Global SIM in the other slot for data.
Here's how mine looks like. I can only do T-Mobile (Lycamobile) for one sim because one needs to be on 2G.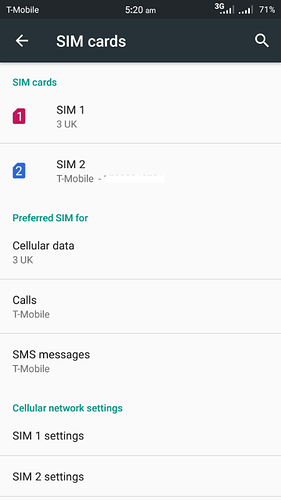 I've read that you can use two ATT SIMs (like Truphone and FreedomPop) if you select a specific SIM for data and set talk and text to "ask every time".
I haven't had a chance to try it myself, yet, however.
Where'd you read that? How would such a setup work for incoming calls between the two SIM cards?
I don't remember precisely where I read that. Probably HoFo or something like that.
I haven't tried it but it's been on my to-do list. I'll post more once I've had a chance to try it.
I read that some of the newer dual SIM phones support 3g/4g in both SIMs.
I notice you tried on HoFo and ringplus social but didn't get many straight answers. You have a couple of choices with voice and data from my research...
You can use truphone if you use a phone with simulataneous 3g/4g. We have the oneplus 3, a couple of sony phones, one specific version of the Samsung S7, a couple of chines phones and maybe the axon 7 and a few others (see here Dual-SIM Simultaneous 4G/3G Capable Phones... | XDA Forums)

Use a tmobile sim in any dual sim phone rather than truphone since tmobile can do 2g still. Lycamobile and speedtalk have cheap paygo. Toggle mobile is a uk sim with usa roaming that may work too. Never used them though but they have local numbers and free incoming calls like truphone.
Some cheap dual sim phones - try the Blu R1HD from amazon for $50-$60 or any other blu dual sim phone.
With all my research on this I have come to the conclusion that I would rather just pay $100-200 a year for something like redpocket or mintsim and use my high end phone I already have. Or if you want free get swiping with cellnuvo.
Yes, calls and text can be set to "ask every time" but since my other sim is FreedomPop and no text and calls, I just set it this way. If I had it on Sim1, I can do that, or just switch one sim off completely.
BTW, truphone no longer has 2G (T-Mobile) so if you want data on another sim (3g/4g/lte), truphone wont work for calls or text. One sim always has to be on 2G. I tried it with truphone and freedompop.
This is for dual standby phones. Dual active phones can do it but is beyond by price range.
Which Sony phones are Dual SIM? Do they have the general bands for US wireless carriers?
How does Toggle Mobile compare to TruPhone in pricing and service? Do they offer a US phone number at no additional cost? They roam on T-Mobile in the US?
F8132 Sony x performance dual sim - has tmob and att lte bands. Can do lte on one sim and 3g on the other it was confirmed in the big thread I linked.
See the thread and the onenote table too for more.
No idea about toggle - found them 5 minutes before posting! Looks like the us number is free , costs 25 gbp for the sim with 20gbp credit included. 3p outgoing calls (about 4c) and 9p texts - about 11c
Supposedly you lose your us number if you don't add 5gbp credit each year but don't know about that. Yes supposed to be tmob roaming
Some info on Dual SIM implementations...
I recommend checking out this link as well
Is that 2 signal bars up in top right of your screenshots, 1 signal bar for each SIM?