Congratulations! I nominate you for current nth circle king dealmaster till someone else knocks you off your nth circle throne
$10 for a small air fryer...
Which is the most useful kitchen cookware for under $100 since y'all have had several months to use all those great deals.
Also any comments on the ninja foodie pressure cooker slow cooker air fryer? Other alternatives? Is it worth the extra bucks? Do you use any of these at least 3 times/week? It will take up a huge amount of counter space in a fifth wheel camper.
Any great memorial day deals out there?
I cook almost every meal with a pressure cooker. I used stovetop pressure cookers for decades and then added an electric pressure cooker to the mix.
We van camp and are all electric, now. We have a mini Keurig (although sometimes we take a regular 12 cup coffee maker) and we have an Instant Pot.
That's it. That's our camping kitchen-- and there's nothing I can't make with an Instant Pot.
Here we are cooking breakfast in Death Valley, yesterday: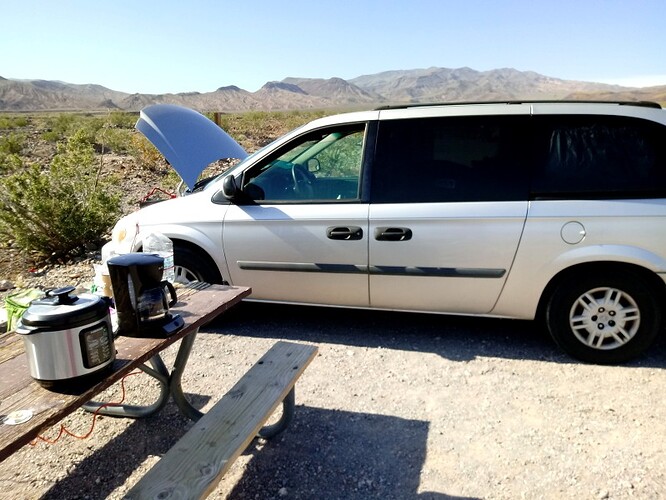 Looks like a great efficient setup. I was wondering if the material on the ledge just above the red alligator battery clip was some sort of seasoning spice?
Looks like the specialty of the house.
Yes. It's a rare desert spice that can only be harvested by driving down unpaved roads.
And it's combined with a tree-based spice native to Georgia.
They may be rare in the desert but my gutters have no problem finding them.
Yup just bought my first ever instant pot. Took just 30 minutes for beans. Open box ebay $33
Guess you have internet connection in the desert?
We're out of the desert, now!
There was public WiFi as we passed through Stovepipe Wells, where we were able to spend a few minutes catching up.
And we had a little bit of AT&T in Furnace Creek, where I was able to use a FreedomPop phone to catch up, again.
The other 90% of the time we had nothing.
I cook one to two meals per day in the Instant Pot, and it's all we take when we go camping.
They're the most energy efficient way to cook and the food is great.
Suggestion. When you are cooking such delicious meals.
Can you do what food trucks do?
Post your current location on social media with a current menu
Thanks in advance