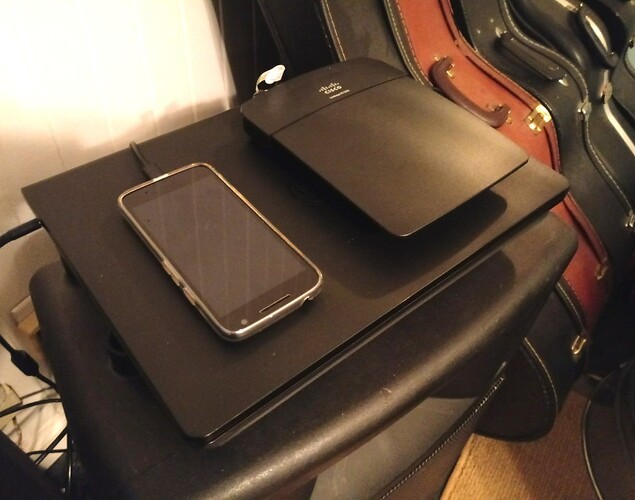 Moto G4 Play cellphone on Sprint Free Year (actually it's been 2 years, with 90 days of Mint Mobile separating the 2 free years).

Phone is connected to a tired old laptop, via PdaNet+, since the Sprint plan doesn't include hotspot functionally. The laptop uses the "Connectify" app to share the PdaNet+ connection with the Ethernet port.

Laptop is connected to a tired old Linksys router whose WAN port is connected to the laptop.
FAQ:
Why use Connectify instead of configuring the sharing of the network connections, in Windows 10, manually?
Because Windows updates and other events occasionally mess with the manual configuration and then I end up having to troubleshoot the problem. Connectify is a "set and forget" solution.
Why use the Linksys router when you can use the laptop's WiFi to create a hotspot?
The router is strong enough to provide coverage for our entire house. The laptop's WiFi only reaches about halfway through the house.
Why not just pay for home internet like normal people do?
Because I'm a cheapskate and this setup meets all of our needs without us having to sacrifice anything. (If we cared about streaming 4k video that would obviously not be the case.)
Also, since we travel a lot (we're frequent campers) we like having an internet solution that travels with us.
How are you able to keep the laptop closed up?
I changed the power setting for the lid to "do nothing". Connectify and PdaNet+ are the only things that run on this laptop and they rarely require any attention.